Chiropractor
Matthew Paterna D.C.
From 2012-2016 Dr. Paterna served as the President of the CT Chiropractic Council, a position in which he was elected by his peers. He is regarded as a leader in the profession by his colleagues. Hundreds of chiropractors have shadowed and studied under Dr. Paterna and his dedicated team because of their gentle and focused approach to health care.
Dr. Paterna attended Loyola University in Baltimore, MD. and earned his undergraduate degree in marketing and finance in 1995. After his experience with the chiropractor, he attended the University of Bridgeport College of Chiropractic. Dr. Paterna graduated with his Doctor of Chiropractic in 2004. "The natural lifestyle, non-drug approach of chiropractic was so appealing, I had to share it with the world!"
While in chiropractic school, Dr. Paterna originally intended to specialize in sports chiropractic. Once he began to visit chiropractic offices, however, he realized that his profession gave him the opportunity to help people from every walk of life, not just athletes.
Dr. Paterna became convinced that the best chance of living a healthy life clearly begins with gentle pediatric chiropractic care. Getting kids off to a great start through optimal spinal alignment benefits the entire family, from moms, dads, and budding athletes to grandparents, teenagers, and newborns.
"We are creating a legacy of health for families who choose chiropractic care for their children. The younger they start care, the sooner they understand the importance of being proactive with their health."

- Dr. Paterna
In 2012 Dr. Paterna was voted by his colleagues to represent chiropractic as the President of the CT Chiropractic Council. Dr. Paterna served two terms as President and is currently the immediate past president of the Connecticut State Chiropractic Council (CCC). Currently, Dr. Paterna holds the position of chairman of the board and is actively involved in lobbying for chiropractic coverage for all Connecticut residents.
He's additionally completed postgraduate courses in pediatric chiropractic and neurology. Dr. Paterna has also been the team chiropractor for two professional baseball organizations and enjoys volunteering his time by mentoring young chiropractors and chiropractic students.
Nationally, Dr. Paterna has been a featured speaker for numerous conferences and conventions, as he feels it is his duty to give back to the profession that has given so much to him.
His memberships and distinctions include:
CT Chiropractic Council – Past President 2012-2016 – Current Chairman of the Board
The Milford, Orange, and Milford Chamber of Commerce
Rotary Club of Milford
The Milford and Milford Wellness Committee (founding member)
Foundation for Wellness Professionals
Ultimate Achievers Club – Top 100 Chiropractors in the U.S.
International Chiropractic Association (ICA)
Eagle Scout Troop 39
Coach Milford Little League All-Star Team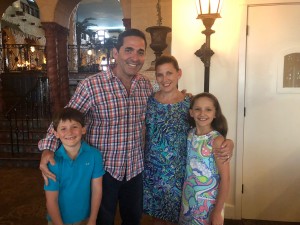 Dr. Paterna is happily married to Courtney, and they're the proud parents of Madelyn and Miles, two dogs, and four cats. They love spending time together as a family, skiing, traveling, and volunteering.
When he's not helping patients, Dr. Paterna enjoys being in the outdoors playing golf, tennis, and softball. He and his wife also support Girl Scouts and Boy Scouts of America, as well as area Little League teams.
Chiropractor
CJ Cameron D.C.
Dr. CJ Cameron has been under chiropractic care since he was an infant. His mother experienced the benefits of care and felt it was necessary for her newborn child to see a chiropractor for wellness. As a result, Dr. CJ rarely got sick in his youth and only went to the doctor for physicals.
Having an athletic background, chiropractic care has kept him healthy and injury-free from pee-wee football to collegiate lacrosse.
"I never missed a game and I am forever grateful to the profession of chiropractic."

- Dr. CJ Cameron
CJ graduated from the prestigious New York Chiropractic College where he performed his residency at the Depew Health Center in Buffalo. He specializes in caring for athletes and children and has a passion for helping people get well. Outside the office, Dr. Cameron is an outdoor enthusiast and enjoys competing in many sports including jiu-jitsu and rock climbing.
Chiropractor
Jia Wei Fan "Dr. Jay" D.C.
Born in Shanghai, China, Dr. Jay and his parents moved to Milford when Jay was 12 years old. In pursuit of the American dream for their son, they enrolled Jay in Harborside Middle School and then Foran High School before attending the University of Bridgeport where he received his undergraduate degree in Health Sciences.
Unsure of what to do with his degree, Jay enrolled himself in the United States Marines where he served 4 years and 1 tour overseas. As an infantry riflemen Jay experienced severe issues with his back and legs. After taking medication for several years, Jay decided to visit the Chiropractor on base and his life changed forever.
"I really appreciated how the chiropractor took the time to educate me about my body and how I can take care of it better. I never really understood how important my spine and nerve system were to my overall health. Choosing to become a chiropractor was a no-brainer! Today I take pride in providing a relaxing, educational, and healing experience to anyone who visits the office. In my free time, I love to work on my car or anything car related, workout at the gym and playing with my two dogs, Zeus and Athena. But most of all I am just excited to start helping the people in my community with Chiropractic Care!"
Please come say hello and welcome Dr. Jay!!
Patient Care Coordinator
Jennifer Randpolph
Jennifer has been with Shoreline Family Chiropractic since fall of 2017. As a child, she went to the chiropractor alongside her mother. At her young age she quickly realized the incredible benefits of chiropractic care. Chiropractic care has also had a wonderful impact on her life as a mother of an active 9 year old and a restaurant server of 10 years and counting. In her spare time, she enjoys traveling with family and photography!
OFFICE HOURS
---
Monday
8:00am - 12:00pm
2:00pm - 6:00pm
---
Tuesday
2:00pm - 6:00pm
---
Wednesday
8:00am - 12:00pm
2:00pm - 6:00pm
---
Thursday
2:00pm - 6:00pm
---
Friday
8:00am - 12:00pm
---
Saturday
9:00am - 11:00am
---
Sunday
Closed